Keeping all your machinery in the best condition is essential for keeping your business operating consistently and smoothly. Of course, even the highest quality machinery will degrade over time, but effective maintenance can limit that degradation to minimal levels and ensure your machinery lasts much longer.
Over time, even with regular maintenance, large generator engines and compressors can suffer extreme wear to their upper and lower liner landing seal areas. This can require extremely expensive replacement of a major component and even more costly downtime for your business.
Cylinder blocks and the upper and lower liner landing seal areas can be damaged by engine failure, severe wear or fretting corrosion. All are problems that need addressing before you can begin using the machinery again. An expert repair service can offer a cost-effective solution to getting your equipment back in working order.
What is a Cylinder Liner?
A cylinder liner is essentially a cylinder fitted to the engine block; it becomes an integral part of its operation. Essentially, they are the interior metal protection from the wear and tear of the motor. Additionally, they will protect it from heat and impurities but in different ways depending on their design. They are known to have three functions (depending on your design) within the engine.
Firstly, they form the sliding surface. The liner tightly holds when the associated valve is seated. This prevents compressed or combustion gas from leaking into the manifold from between the valve and valve seat. They offer a high burn resistance with a low self-friction or with the piston ring. Additionally, they have a low lubricating oil consumption.
Secondly, they have excellent heat conduction. Conducting the internal combustion heat out through the liner reduces the friction of both the valve and cylinder head simultaneously.
Thirdly, they help keep airtightness. By maintaining an utterly airtight seal, the liner prevents internal combustion and compresses gas from escaping and reducing the engine's efficiency. In addition, the liner shouldn't be prone to deformation due to the temperature and pressure being so high internally.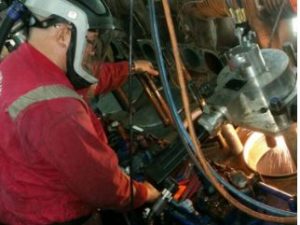 How Is A Sleeve Different?
There isn't a difference, it's an interchangeable name, and different countries adopt one or the other. But there are different types to choose from during a cylinder sleeve replacement.
Dry cylinder liners are a more basic design but highly practical. This design must withstand the previously mentioned high temperatures and guard the piston interior against impurities. It achieves this thanks to its very close fit within the jacket in the cylinder block will. Dry liners are usually comparatively thinner than wet ones due to their more basic design.
Wet cylinder liners will protect your piston in a slightly different way. These liners will interact with the coolant, hence the name. In addition, some wet cylinder liners will help disperse heat and impurities when fitted with tiny openings.
Finned cylinder liners are designed for air-cooled engines. They are made of the same impurity and heat resistant metals as the dry cylinder liner and work much the same way. However, the finned cylinder liner is fitted with tiny fans, which increase the force of the inflowing air and increase cooling efficiency.
Potential Collateral Damage
If a cylinder leaks water into the crank bays, it will cause damage to the crankshaft and mating parts. If this were to happen, In-Situ's experience with crankshafts makes us ideally placed to help with any associated crankshaft repairs.
We offer a metal stitching service if any broken parts or fractures occur in these seal areas. Our skilled engineers have successfully employed this advanced stitching system to fix any of these problems. When combined with a make-up sleeve insertion procedure, metal stitching has proven invaluable as a durable yet cost-effective repair solution to OEMs as well as equipment owners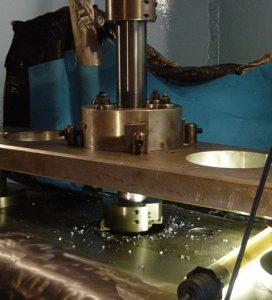 How We Can Repair Cylinder Blocks
During our last two decades, we at In-Situ have perfected our way of designing and developing a specialised boring and facing system to allow the asset owners a more cost-effective alternative to replacing the worn components.
Over the last 20 years, we have developed the expertise to repair the damaged areas of the cylinder blocks successfully. As a result, we are confident that we can reinstate the damage to the upper and lower landing seal areas, damage usually caused by the problems mentioned earlier, to leave your asset good as new thanks to our mobile on-site machining equipment.
On-Site Machining Services
We offer multiple repair options for all engine types to ensure that we can get your business up and running again. We provide make-up sleeves and rings inserted with interference fits, thermal spraying and selective plating. Choosing In-Situ means you can have peace of mind that your maintenance needs are adequately covered without having to worry about any expensive engine block replacement.
To learn more about our Liner Landing machining and the other on-site machining services we provide, check out our various services. If you have any questions about the services we recommend filling in an enquiry form or calling us during business hours at 01788 572777 and one of our engineers will answer your questions.