In-Situ Machining Solutions has established a reputation for providing high quality on-site machining services to large commercial vessels—this case study shares when we were recently hired to maintain a MAK 12M 43C engine for a major ferry company. Read on to learn how our team achieved this.
Machining All Crankpins on a MAK 12m 43C Crankshaft
As part of our services at In-Situ Machining Solutions (UK) Ltd, we were recently contracted by the customer to undertake a comprehensive inspection and machining of the 6 off crankpin journals and the Machine Polishing of the main bearing journals on a MAK 12M 43C Engine.
Primary Goal
Our primary objective was to machine down to the first undersize bearing, which was 0.50mm undersize, and super finish and polish the main bearing journals to ensure flatness. With our team of expert engineers and state-of-the-art equipment, we successfully completed the project to our client's satisfaction.
The engine was located on a large vessel, and the repair was time sensitive as the vessel was required to be back in operation at the soonest possible opportunity. We deployed four of our engineers to work on a 24-hour working pattern due to the urgent nature of the repair.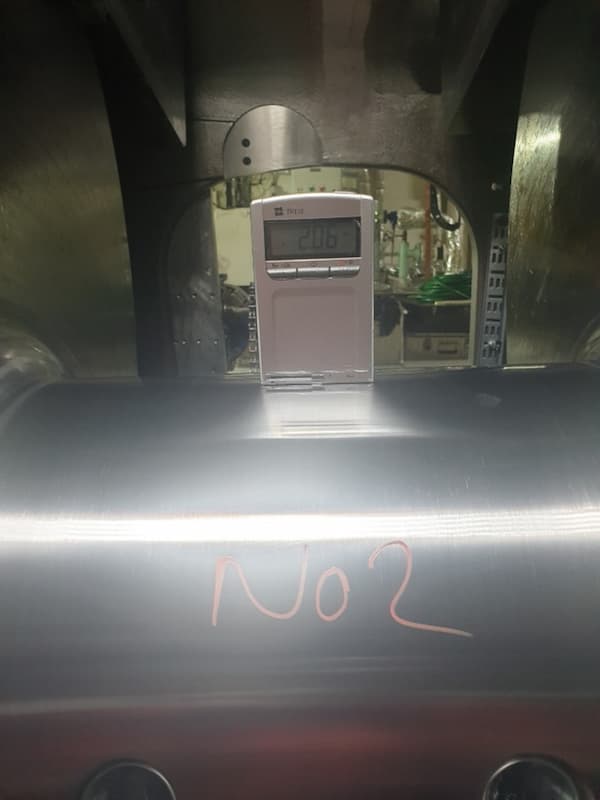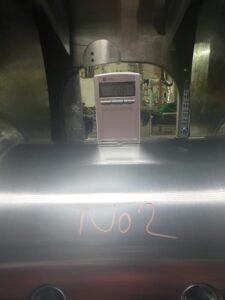 Inspection and Assessment
Initial inspection by the OEM, it was noted that the lubricating oil feeding the crankshaft had become contaminated with abrasive impurities, causing damage to the surfaces of the crankshaft journals.
Upon further inspection, we observed significant premature wear to the crankpin journals and surface damage to the main bearing journals. Flatness checks were performed using a straightedge and engineer's blue ink, revealing that the crankpin journals displayed less than 70% flatness. Additionally, the BDC position of the crankpin journal had suffered significant wear, resulting in an uneven surface, while the TDC position remained relatively flat.
Hardness readings were taken on all crankpin journals, which indicated consistent values within 20 HB. Full dimensional calibration checks were taken on each crankpin, revealing that all crankpin diameters were below the nominal size and specified h6 geometric tolerance. Based on these results, our engineers recommended machining the crankpin journals to 0.50mm undersize.
Inspection and calibration checks were conducted on the main bearing journals, where hardness readings again fell within a 20 HB range.
The same level of wear was not present on the main bearing journals as on the crankpin journals. Flatness checks revealed consistently flat surfaces, achieving a minimum contact of 80% flatness. Full dimensional calibrations were taken on the main bearing journal diameters, indicating very little wear had occurred. Clearly, the contaminated oil had caused significant damage to the crankshaft, and machining was necessary to restore it to proper working condition.
Machining Repairs

All 6 Crankpin journals were machined off to 0.5mm undersize per the instruction received and OEM re-machining specification. We machined the bearing running surfaces, super finished them for flatness, and polished them to achieve the required surface finish. We recut and reformed the oil holes and fillet radii to specification and polished them to achieve the desired surface finish.
Main Bearing Journals #2 to #8 were super finished and polished to remove a maximum of 0.02mm of material on diameter, restoring the surface flatness and surface finish of the journal diameters. All fillet radii and oil holes on these journals remained original as they did not require re-work due to insufficient stock removal.
Positive Results
All the previously described machining works were completed within 21 days on a 24-hour working pattern.
We take pride in our ability to provide top-notch in-situ machining solutions to meet the specific needs of various vessels, from smaller craft to emergency repairs on luxury cruise liners, and we look forward to continuing to provide exceptional on-site crankshaft machining services.
Complete On-Site Crankshaft Repair at In-Situ Machining Solutions
With years of experience in the industry, we have established ourselves as a reliable provider of in-situ machine repair services across various industries worldwide. Read about more of our successful work in our other case studies.
Our team of expert engineers arrives at your facility equipped with unique mobile repair equipment to conduct practical crankshaft repairs, ensuring that your industrial machines remain operational.
Our emergency services are available 24/7, 365 days a year, ensuring we are always available to meet your urgent needs. Contact us today to discuss how we can help maintain your essential machinery and keep your operations running smoothly.