IN-SITU OFFER ENGINEERED SOLUTION TO NEW CLIENT
In-Situ Machining Solutions (UK) Ltd made quite the impact on a new client supporting them in finding an engineered solution to an on-site problem they experienced at a chemical plant in the UK.
In the run up to Easter, In-Situ Machining Ltd had various communications with the OEM to establish the best course of action in relation to an issue arising with a shakeout unit and motor interface. The problem occurred on the faces between the motor and the shakeout unit. Two of the mating pads on the outer edge of the shakeout machine appeared to have large areas of non contact between motor and mounting plate and showed signs of corrosion resulting in an uneven surface. The other pads on the outer edge had large areas of scale that appeared to have crumbled from the base of the motor resulting in large indents in the motor feet.
Fretting had occurred on a number of the pad mating faces resulting in the loosening & failure of the bolts, shearing at the head. It was determined by the asset owner and the OEM that the pads on the motor were irrepairable due to the large pitting, not leaving enough material to skim back to a level finish. In-Situ Machining proposed a milling option for the client ensuring restoration of the face back to a square and flat surface. After further technical discussion, In-Situ designed and manufactured a milling set-up to undertake the on-site milling of one of the shakeout unit motor mounting pad feet in an inverted position. In-Situ Machining undertook this site project over the Easter bank holiday weekend.
The pad was 600mm x 600mm square and the requirement was to mill the pad flat and square to the manufacturer's required tolerances. A total of 1.5mm was removed from the pad face to make good the existing damage and the flatness tolerance of 0.05mm in the X&Y Axis was achieved. The finish of the milled surface exceeded the required tolerance of 3.2RA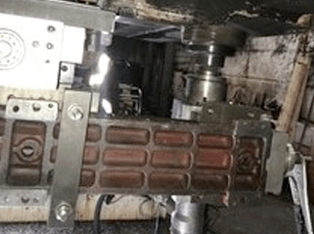 Milling machine set up to undertake the inverted milling operation.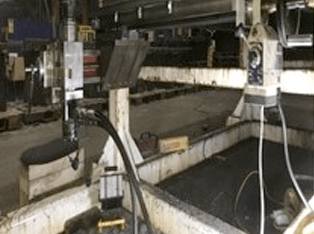 The motor was then replaced and installed on the newly machined surface.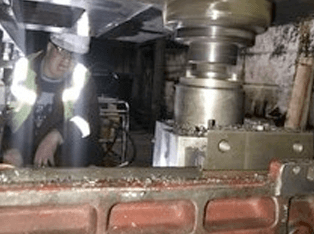 Taking final skim across the pad face
Address
Unit 12
Prospect Park
Valley Drive
Rugby
Warwickshire
CV21 1TF
England
© Copyright In-Situ Machining Solutions 2021