IN-SITU MACHINING SOLUTIONS RESPOND QUICKLY TO MAJOR CRANKSHAFT FAILURE ON A FERRY
In-Situ Machining (UK) Ltd received an urgent telephone call on 29th August from a ferry management company concerning a vessel located in Belfast with a main engine large end failure.
In Situ Machining responded by travelling on the 30th August with a two man team. On arrival a visual and manual inspection was carried out, revealing surface tearing/wear of up to 0.75mm on BDC. Also hardness readings were recorded at over 700 HB.
The two man engineering team commenced machining the crankpin to 5.5mm undersize. Heat treatment was then implemented to reduce the hardness to an acceptable level of under 400 HB. Final machining followed by removing 0.5mm to make the large end 6mm undersize. Bearings were immediately available at this size.
The crankshaft was bent due to the failure. Heat treatment plus peening released the stresses to an acceptable 0.02/0.04 mm TIR. Adjacent main journals were then polished.
Calibration of both engines revealed that all the big ends had significant signs of cam wear. A decision by the Superintendent was taken to employ In Situ Machining to superfinish both engines, a total of 15 large ends.
The obvious commercial pressure to resail the vessel as soon as possible meant that the project being completed in 12 days was appreciated by the ship's management.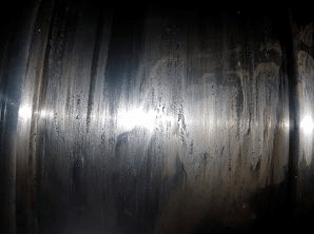 Damage prior to machining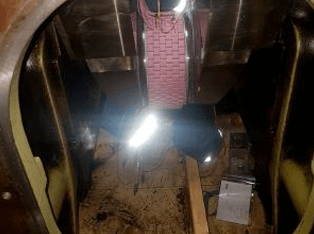 Commencing Heat treatment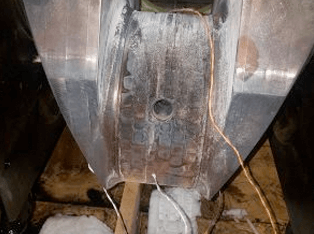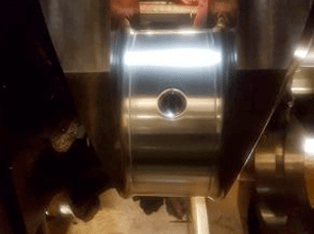 Finished machined large end
Address
Unit 12
Prospect Park
Valley Drive
Rugby
Warwickshire
CV21 1TF
England
© Copyright In-Situ Machining Solutions 2021