IN-SITU MACHINING SOLUTIONS RE-ENGAGED TO MACHINE SLIP RINGS 10 YEARS AFTER FIRST VISIT
In-Situ Machining Solutions (UK) Ltd were contacted by a long standing client to undertake the machining of some 635mm O/D Slip Rings on a Rotor at a Manufacturing Plant in the UK. In-Situ Machining first undertook the skimming of the slip ring diameters some 10 years ago after the client experienced an arching issue with the unit resulting in surface damage. After such a successful outcome to the previous job, the client re-engaged In-Situ Machining to carry out the re-machining of the slip rings after they replaced the shaft some 10 months ago and experienced surface damage after issues with the brushes and slip ring surface.
In-Situ Machining surveyed the job to ensure all of the correct equipment was available and there were no changes to the previous replaced shaft. After inspection, In-Situ Machining entered into discussion with the asset holder, the service company maintaining the rotor and also the brush manufacturer to offer our engineering knowledge and experience relating to the repair. After discussions were complete and a course of action was determined, In-Situ Machining were able to show flexibility with the client's shutdown schedule and machine the set of 3, 635mm O/D slip rings on a 24 hour working pattern over 4 shifts. Each ring was machined to a specific size removing minimum stock to ensure the surface was clean and free of damage complying with the OEM's concentricity and surface finish requirements.
The Rotor is now back in operation and weekly checks have been performed to determine the condition of the newly machined surfaces and how successful the machining operation has been. All is running well, brushes are showing good signs of bedding in and the machined surfaces are in great condition.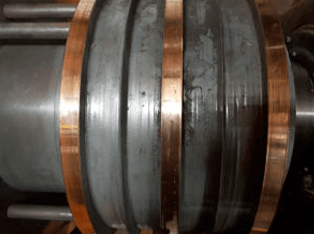 Slip rings prior to machining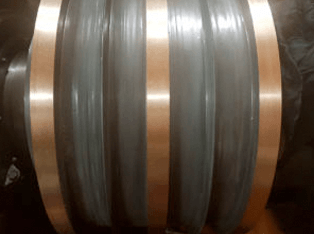 Slip rings after the machining process was completed
Address
Unit 12
Prospect Park
Valley Drive
Rugby
Warwickshire
CV21 1TF
England
© Copyright In-Situ Machining Solutions 2021