IN-SITU MACHINING SOLUTIONS UNDERTAKE ON-SITE MACHINING WORK ON A PRESS BED
In-Situ Machining Solutions (UK) Ltd were contracted in by a new client to undertake a multi operational machining project at an educational site in the UK. The works consisted of the precision milling of 2 off 2100mm long x 22mm wide x 38mm deep paralleled slots and the drilling, reaming and tapping of various holes on a Firmo press bed. The project had been planned in for a long period of time, however due to the clients commitment to operation of the equipment, the start date of the project slipped several times prior to commencement. After successful workshop trials to ensure no delays were encountered on-site and the fastest and most accurate set-up was achieved, In-Situ Machining were ready at a moment's notice when the client finally found a period where they could remove the asset from operation.
The tolerance on the width of the slots over the 2.10m length was tied up to 0.05mm which was easily achieved by In-Situ during the operation, leaving the drilling and tapping of four off M16x 40mm deep and two off M8 x 30mm deep bolt holes and two off drilled and reamed dowel holes x 25mm deep. The use of a drilling jig was enlisted to ensure accurate positioning of the newly formed holes, keeping them relative and in tolerance to the newly machined 2.1m slots. All the work was completed within 6 Shifts and well within the allocated timeframe of 10 Days, giving the client back the asset early. The reduced timescale of the project was largely apportioned to the workshop trials that were undertaken, allowing the technicians to work through and eliminate any potential problems before attending site.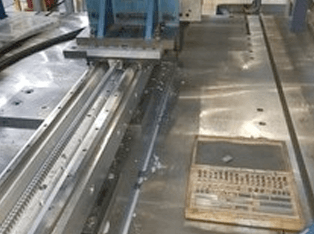 Milling of the slot in progress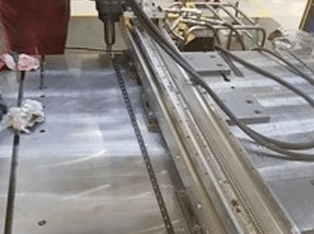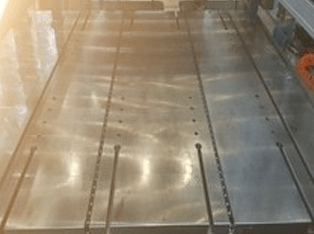 Address
Unit 12
Prospect Park
Valley Drive
Rugby
Warwickshire
CV21 1TF
England
© Copyright In-Situ Machining Solutions 2021